Should you be thinking of taking a battlefield tour, I have outlined some places that I find interesting, and you may not have heard of. Many are not found in the standard tour guides, and the physical evidence of the events they witnessed is not always obvious. These are places I have discovered through years of personal research while living in the local community, the details of which have been passed down through the local generations.
To bring these very personalised tours to life I incorporate artefacts from my own museum, as well as maps, contemporary photographs and an in depth knowledge of the landscape. I was brought up on 'Boys Own' adventure stories (perhaps more relevant to people of a certain age!), so I have sought out places and events that particularly interest me. Some are well known – many are not, but all are important in understanding the realities of the World's first global conflict.
The First World War is a deeply ambiguous and complex subject, and I enjoy learning from my guests as I pass my knowledge to them. My tours do not cater for large groups and you will not find big air-conditioned coaches parked outside my museum. My tours are personal, educational and reciprocal. There are no time limits, complex itineraries or commercial tie-ins with tourist attractions. Here you will see the real battlefield and discover the forgotten landscapes of war.
I know from years of experience that battlefield touring can be a tiring business, so the pace of the day is entirely dictated by what you would like to see. Timings are flexible and should you want to visit a particular location, or plan a tour around the experience of an individual I am happy to help – just let me know in advance. I live on the Kemmelberg, in the heart of the Flanders battlefield, a place traumatised by more than four years of war. The peaceful countryside has now returned, but I always invite my guests to enjoy a cup of tea with me in the garden and then visit my museum next door to get a better sense of what the area would have been like a century ago.
One-Day WW1 Battlefield tour for up to 3 persons:  €300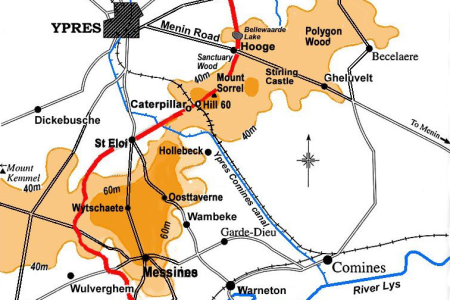 Travel & accommodations
Accommodation can be arranged in selected hotels and guesthouses either in Ieper (Ypres), Poperinge or the scenic Heuvelland countryside. The area is known for its fine food and prize-winning beer, as well as its scenic walks, and years of history before 1914.
Flying into Paris
Take the TGV from Paris to Lille and then a local train to Bailleul where you will be collected. Pick up from Lille can be arranged for a modest fee (full details and timings on request).
Flying into Brussels
Take the train from Brussels to Ieper (Ypres) where you will be collected (full details and timings on request).
Eurostar
From Lille take a local train to Bailleul where you will be collected.  Pick up from Lille can be arranged for a modest fee (full details and timings on request).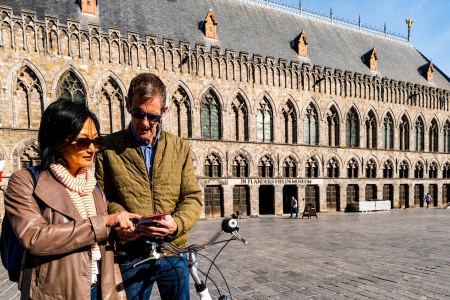 Tours
All my standard tours visit selected cemeteries, museums, bunkers, trenches and mine craters in the area, giving guests a basic grounding in how the war affected this part of Belgium. I also like to show where gallantry medals were won, revealing personal stories of bravery and valour, reminding us that the conflict may have been waged with vast armies, but these mighty forces were made up of individuals.